As an Area Manager you'll be responsible for the overall performance of Lidl stores. Driven and self-motivated, you'll lead up to 70 employees and more, overseeing all store operations.
Making sure a group of Lidl stores operates efficiently and generates maximum turnover is a big responsibility. This person has to be up-for.it, ahead-of-the-game, do-it-better retail professional who has gained proven experience since graduating and who can develop the role further. Experience, though, doesn't mean you've seen it all before and that you can do the job standing on your head. It means you have learned the value of fresh ideas and have developed a passion for people management. It's about strategic-thinking, bar-raising, problem-solving managers who can inspire everyone to be high achievers. If you've got it, you'll get loads back, fast-tracked with a great package and every opportunity to develop your management abilities in a visible role with a keep-it-simple, fast-growing, retail-changing business.
Your tasks
Develop, coach and inspire your team of Store Managers to fulfill their potential and ensure the stores are running smoothly and efficiently
Manage all key cost control areas with your stores and provide direction to your management team to enable them to meet their KPI targets
Problem solve on the spot and use your initiative to maintain great standards throughout
Strive to create, retain and develop a strong and motivated management team
Lead by example and encourage your store teams to always be the best they can be
Drive sales and increase turnover in stores by making full use of promotional tools
Identify personnel requirements through succession planning and develop high potenital employees
Provide HR management in all of your stores following company guidelines and procedures
Recruit new employees and manage their expectations/training, as well as that of existing employees
Ensure high standards of cleanliness, freshness, stock availability and customer service throughout your stores
Maximise your own KPI targets to ensure deadlines and agreed standards are achieved
Your profile
Degree education with a few years of full time work experience since graduation in a personal management role with direct reports
An enabling leadership style with the capability of developing and motivating others through leading by example
Experience working with KPIs with the ability to digest figures analytically, ensuring store and management targets are met
Methodical approach, excellent time management skills and ability to "work smart"
Ability to analyse a problem and implement the best possible solution
Proactive, flexible approach and ability to take initiative
Strategic awareness to see the bigger picture
Drive, motivation and willingness to challenge yourself
Ability to communicate with clarity and honesty, adapting your style for different people including employees, customers, colleagues and suppliers
We offer
At Lidl we consider personal development and growth essential. Therefore we provide you with first class on-the-job training. Parts of your training will take place in Italy. After your training period you will soon take over responsibility for your own sales districts.
We offer a pleasant work climate in a motivated team, a diverse job with excellent development perspectives in a dynamic company in continuous expansion, as well as a secure working place and an individual progress, characterised by an advanced, task-oriented professional training programme.
Salary above market average and a company car included.
Benefits
10 Year Anniversary Recognition Benefits
Attractive Remuneration Package
Important In-Store Numbers!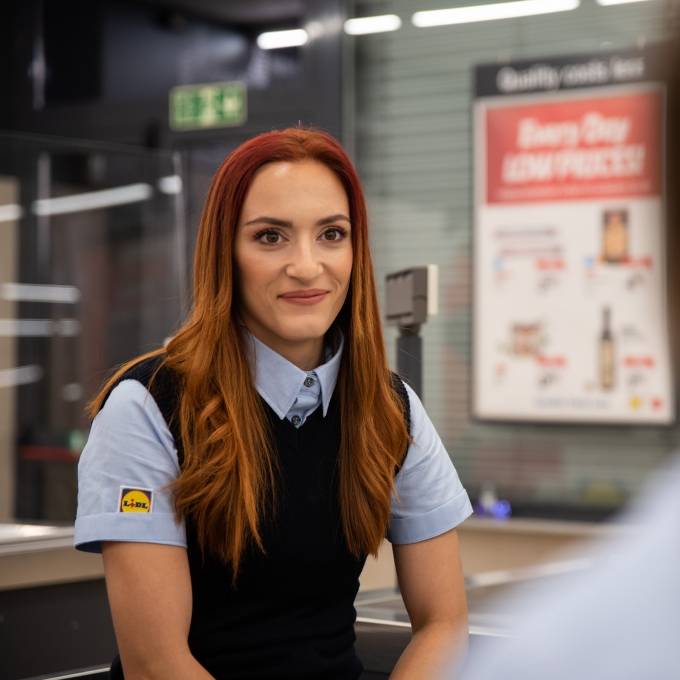 29% of our management
Are women
Over 20 Nationalities
A truly unique workforce!